How do you decide when it is time to think about replacing your roofline?
There are obvious signs when your soffits, fascia boards, barge boards or guttering need replacing – or at least need some maintenance work carried out.
Flaking paint— this exposes softwood timber to the elements and makes your property look shabby
Rotten timbers—not always obvious, but does need to be checked because it allows water ingress that damages your roof support timbers and ceilings. You might even get leaks through your bedroom ceilings
Blocked guttering—leaves, moss and other debris act like mini-dams and create mini-waterfalls all around your home during heavy rainstorms. This in turn can erode your brick or stonework and create other maintenance problems
Leaky, broken or rusty guttering– not just unsightly, it also stains and damages your brickwork—re-pointing or replacing brickwork is costly
When You Decide Replacing Your Roofline Is The Best Decision…
If, after inspecting your roofline, you do decide replacing your roofline is the right thing to do, you're probably thinking…
"Do I attempt to do it myself (with all the inherent problems that conjures up) or do I get a
professional company to do it? And if I do decide to get it done, who should I choose and
how much is it going to cost?"
Choosing a professional company, with a good reputation, to install your replacement roofline makes economic sense as well as eliminating the hassle for you.
On this website you will find information about how we go about replacing your roofline and why we are a good choice for you if you are located in the Norfolk area.
For The DIY Enthusiast…
But, if you are thinking of doing it yourself, please check Why Fascia Replacement May Be Cheaper to get some idea of the cost of roofline replacement. And, take a look at the roofline installation process we use to get an understanding of what replacing your roofline involves.
Understanding more about your roofline will also help you make the right choice for you and your property so why not request a FREE copy of our Roofline Guide – it contains interesting details about rooflines.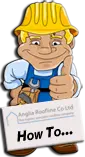 A little professional insight can be very useful so, just to help you out, I've included a series of how-to posts on this website so you can undertake some of the work yourself if you are inclined to do so (I'll be adding more how-to instructions so do bookmark this site and pop back for more help when you need it).