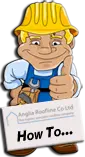 Roofline Replacement Step 5 – Bargeboard Installation
Bargeboards are installed after the soffits are fitted. There are two types of bargeboard design and each is dependent upon how you want the 'box end' to look. To make a box end supportive and cosmetically appealing, you must take exact measurements.
Bargeboard Box End Finish
There are two box end styles: 'kite and wedge' and 'one piece'. Check what box end style is currently fitted, it is likely to be a 'kite and wedge' which is the most common. If you are lucky it may be a 'one piece' which is easier to fit because you can now get large plastic fascia boards.
Measuring for a Kite and Wedge Box End
For a 'kite and wedge' style, measure from the apex, along the gable ladder keeping tight to the verge. Stop at the point where the gable ladder finishes. Make sure you keep the tape measure straight. Any slack on the tape will result in an incorrect measure.
Measuring for a One Piece Box End
Measure from the apex but stop in line with the 'return' that was fixed earlier (i.e. the last piece of soffit you fitted).
Once you have got these measurements, prepare the bargeboard fascia before measuring for the box ends. It saves you having to remember all the different measurements or attempting to write them in a notebook when you are balancing on a ladder, not something I would recommend.
Use the carpenter's bevel to check the correct angle for the apex and box end.
Both should be the same angle. Butt the fascia and mark the nails roughly 500mm apart. If the fascia is large, mark it for double nailing to prevent tilting when the bargeboard is fitted.
Fitting Bargeboard with Kite & Wedge Box End
There is a bit more preparation involved when you have a 'kite and wedge' box end. This is because the box end is effectively part of the bargeboard.
The next step is to measure the 'kite'. This is the upper part of the box end and is a scalene triangle (a triangle with no equal sides or angles).
Use the carpenter's bevel as many times as you need to get it right. You'll probably find you are frequently up and down the ladder, but the tight fit you get by taking this much care will be worth it.
The three measurements you need are:
1 – Top of bargeboard to verge strip
2 – Top of bargeboard to the point where the bargeboard meets the verge strip
3 – Point of bargeboard meeting verge to top of box end at the corner
It can be a little confusing, but the points should be very apparent as these are the only ones you will be able to get measurements from.
Use the measurements to cut the fascia pieces for the kite section and fix onto the bargeboard using 30mm pins. Do not use screws to fit because the fascia will burst as the screw tension grips.
Use a scaffolder's level to mark the bottom of the bargeboard so that it runs level with the adjoining fascia run. Cut this excess fascia off and keep it to one side as this is good enough to make the 'wedge'. Mark the 'wedge' tight to the 'return' and cut. Stick on with a strong adhesive and finish the box end off with a fascia corner and trims.
Fitting Bargeboard with One Piece Box End
Measuring the 'one piece' box end board can be very similar to measuring the 'kite and wedge' style.
The bargeboard should stop just before the vertical 'return', leaving a foot or so of exposed gable ladder.
Again, use the carpenter's bevel as many times as needed. Start from a single point, bearing in mind that the fascia lip (the neat edge) needs to be flush with the soffit of the adjoining run. Sometimes these cannot be level due to the build of the house.
Taking it in stages and, if possible, using two carpenter's bevels for speed. Measure point to point, bevel to bevel to make every cut precise. Once cut, fix with nails. Use as many additional fixings as needed to avoid any movement. These fixings will be hidden by the corner and joiner.
The pictures below show each of the 5 steps to follow when fitting a one piece box end:
'One piece' box ends are prone to warping due to thermal movement and lack of fixings for such a small piece. Finish off with using fascia corners, allowing enough coverage to hide the extra fixings.
Finishing Off
When you have completed the box end and bargeboard fitting, clean and finish off with a smooth seal of mastic where the uPVC meets the verge strip. This prevents water, especially from morning dew, seeping behind and affecting the gable ladder.
It Might Be Better To…
…give the job to someone else.
Replacing your roofline can be a tricky business, especially without professional help or guidance. Although I have aimed to help you complete the job with these 'How-to' guides, I think I have probably highlighted just how much work is involved.
If you feel it is all a bit too much to handle, then using a specialist roofline replacement company (like Anglia Roofline) could be a wise, economical choice for you.
It doesn't cost you anything to find out, at least not if you are in the Norfolk area and ask me for a free, no obligation quote.
I only take 30 minutes to inspect the current state of your roofline. And then I'll give you an honest report on what is needed and what it will cost to fit a quality uPVC roofline guaranteed to last 20 years.
At Anglia Roofline my fitters have the right experience to remove your old roofline and fit your new one. . . including installing soffits, installing fascias, bargeboards etc. all safely, quickly and with a tidy finish.
Make A Saving: Your Special Offer:
The weather impacts on when this type of work can be done. That's why if you can be flexible about when the replacement is carried out, you could save up to £825 off your quote.
Best regards
Simon Steward
Owner & Director | Anglia Roofline Company Ltd
Request your FREE survey & quote NOW.
Related Posts:
Installing Fascias
Installing Soffits