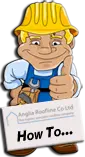 How To: Install a Roofline
Whilst I usually advise people to get a professional to install a roofline, I appreciate that some folks would prefer to do the work themselves. Either because they feel they can do just as good a job or they have budget issues.
However, if someone does install a roofline incorrectly it can leave your home at risk to water damage. So, if you decide to take this DIY option, please be absolutely sure you know what is involved, how long it will take you and what the weather forecast is. And check you are confident you can install a roofline properly.
Understanding the 6 main steps my professional fitters would take if you decided to use them to install a roofline on your property will, hopefully, help you to finish up with a sealed, dry roofline that looks good – one you can be proud of.
6 Step Guide to Install a Roofline
Let's start with the sequence of tasks you need to follow once you've decided you need to install a roofline. I'm assuming you are going to use good quality uPVC fittings to give you the longest lasting result. We get 95% of our uPVC materials from Eurocell and would recommend investing in their products.
You also need the right tools for the job – check our Roofline Repair Tools list.
Health Warning: If your property was built between the 1920s and 1970s there's a good chance that asbestos material was used on your roofline. Under no circumstances should you attempt to work with any materials containing asbestos. You must get a specialist, licensed company to remove any asbestos that is present.
OK, now that important health warning is out of the way, here's the sequence our professional fitters recommend you follow to install a roofline properly:
It sounds quite straightforward, doesn't it? But, as I've already mentioned, there is a right way and a wrong – potentially risky way – to install a roofline. Please click on each of the steps above to get a more detailed how-to guide for each part of the sequence.
Now, it may be that once you've gone through these guides, you decide you would rather leave it to the professionals after all.
If you are in the Norfolk area, I'd be happy to visit for a 30-minute, no obligation survey and quote. I think you'll be pleasantly surprised at the value we deliver and how cost effective getting a professional company to install a roofline can be. Especially compared to carrying out regular maintenance or even doing the job, and handling all the problems that entails, yourself.
Why Choose Anglia Roofline to Install a Roofline?
We don't do any other type of building work. Rooflines are our specialty. You get:
No high-pressure selling. I'm the MD of the company and I visit you myself and I'm no salesman!
An honest survey
A good value quote
Guaranteed workmanship (10 years)
Guaranted materials (20 years)
Polite, considerate fitters who know their craft inside and out
A tidy finish, apart from your new, smart roofline you would never know we'd been on your premises
I think that's why we have such a good reputation with our customers. . . you can read their unbiased comments at Referenceline where we have a 9.5 out of 10 rating.
Oh, another point worth thinking about, if you can be flexible about when the work is carried out you could take advantage of our 'standby-offer'. You would save up to £825 off the normal quote to install a roofline replacement on your property. Read more about how that works on our Roofline Offer page.
Go on, get in touch and book your no-obligation survey & quote. I look forward to meeting you,
Kind regards,
Read Related Posts:
Installing Gutters and Closing Your Roofline
Bargeboard Installation
Installing Fascias
Installing Soffits
When Anglia Roofline to Replace Your Roofline